Sustainability
Marina Tower not only offers the highest level of living comfort in a prime location - the building also impresses in terms of sustainability. This is ensured by a smart overall concept for heating, hot water, mobility and energy efficiency, the quality of which is also confirmed by renowned environmental certificates.
HEATING AND HOT WATER
A heat pump system for geothermal use provides environmentally friendly and sustainable heating and cooling.
Here, the natural temperature of the earth's environment at foundation depth of the building is used for cooling in summer and for heating in winter. In this way, energy can be saved by using existing resources.
Fernwärme Wien supplies heat conveniently and directly on site in a climate-friendly and almost CO2-neutral manner through renewable heat generation plants such as waste-to-energy and combined heat and power plants.
ENERGY EFFICIENCY
On average for all residential units, site CO2 emissions are approximately 6Kg/m²a, which corresponds to an exceptionally good classification.*
MOBILITY CONCEPT
A decisive factor for environmentally conscious living is mobility behavior. At Marina Tower, you can easily and conveniently switch to low-emission alternatives. This is ensured by the sharing offers available exclusively for our residents*. These include two e-vehicles, a conventionally powered van, as well as five e-citybikes and 10 e-bikes. In addition to spacious bicycle storage rooms, six car parking spaces will also be equipped with e-car charging stations. And anyone who wants to retrofit their own parking space with a charging station can do so in consultation with the property management.
CERTIFICATIONS & AWARDS
Marina Tower is the proud bearer of renowned quality and environmental certificates. For example, the building was certified "Gold" by the Austrian Society for Sustainable Real Estate (ÖGNI). In addition, the Marina Tower has a "Gold" rating according to the klimaaktiv building standard and is also a winner of the European Property Award.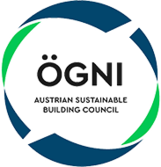 ÖGNI
ÖGNI (Austrian Sustainable Building Council) certifies sustainable buildings and urban quarters according to the European quality certificates DGNB and blueCARD (for existing buildings).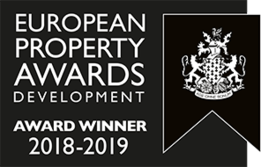 European Property Award Winner
Europe's finest developers, architects, interior designers and real estate agents gathered at The Park Lane Hotel in Mayfair, London on Friday (September 23rd) for the announcement of the winners of the hotly contested European Property Awards.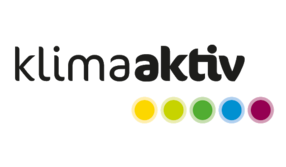 Klima Aktiv
klimaaktiv is a broad-based climate protection initiative of the Austrian Ministry of the Environment. The klimaaktiv programs all have a common goal: lower CO₂ emissions and increased use of renewable energy sources.